Radon is a serious problem and it poses a significant threat. There's a chance it may be a problem in your own home, which is why we recommend testing for its presence. Our homes are not the only place the deadly gas can be a problem, however. It can exist in any structure or residence. Radon in daycares, schools and even fitness centers can be a real problem for our youth. Hopefully, you don't need an in-depth explanation as to why radon gas could be extremely dangerous in these places, especially a daycare.
Why Radon in Daycares and Schools is Such a Threat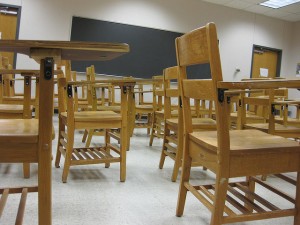 It is the second leading cause of lung cancer in the United States and many other countries. In the U.S. alone it's responsible for the deaths of over 20,000 Americans every year.
The longer you are exposed to radon gas the greater your risk for lung cancer is. That risk grows exponentially when you've combined an exposure to radon and tobacco smoke – whether it comes from secondhand or direct smoke that matters little.
Obviously, children at a daycare are not going to be exposed to tobacco smoke often – hopefully not anyway. That said, if their homes and/or daycare are plagued by elevated levels of radon gas it's going to mean long-term exposure for them. If they are exposed to radon elsewhere or even later in life, their risk for lung cancer will be dangerously high. The Radon in daycares and schools is decreasing the health of any affected children over time.
Laws Regarding Radon in Daycares and Schools
It makes a lot of sense then why some States have passed laws requiring daycare centers and schools to test for the presence of radon.
The states that require radon testing in schools are Colorado, Connecticut, Florida and Virginia. While the states that require radon testing in child care centers are Connecticut, Florida, Iowa, New Jersey, Rhode Island and Illinois. Furthermore, only the following states require mitigation if elevated levels are found:
Schools – West Virginia, Rhode Island
Child Care Centers – Indiana, Maryland, Missouri
State Buildings – New Hampshire
Alarming Facts About Radon in Daycares and Schools
As you can see, radon hasn't really been a priority to legislation which is definitely a problem. Strictly speaking, there's nothing more important than our future – our children. It is extremely vital that we share the knowledge of radon gas and its associated dangers with others to raise awareness. If you're a parent interested in your child's day care center or school, get in touch with property officials and request radon testing results for the location. If they cannot provide them, then encourage or urge the school to conduct a test as soon as possible.
In case you're not certain whether or not radon in daycares and schools is a problem, here are some frightening, yet true statistics:
It is estimated that more than 70,000 U.S. classrooms exhibit elevated, short-term levels of radon gas
19.3% or 1 in every 5 schools have at least one classroom with radon level above 4.0pCi/L
Several schools during an EPA study were found to have levels exceeding 20pCi/L, while others had levels over 100pCi/L
Most schools in the country don't bother testing for the presence of radon
Only eight states regulate radon screenings: Connecticut, Colorado, Florida, New Jersey, Rhode Island, Virginia, West Virginia and Oregon
If you'd like to know more check out our infographic on radon in schools.