Radon gas may be a danger to you and your family, but what is it?
Radon gas is a naturally occurring radioactive gas that is odorless, tasteless and invisible. Your home, school or place of work may be filled with concentrated amounts, yet you'd never know.
Radon gas is actually a decay product of common elements such as Uranium, which can be found in the soil and rock beneath our feet. It can also be found in water though usually in less concentrated amounts.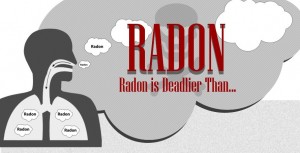 The radon gas seeps up from the surface and into surrounding areas. It can collect inside a home after getting in through cracks in the foundation, walls or flooring.
Long-term exposure to the gas is dangerous, and can cause many pulmonary ailments — the worst of which is lung cancer. It is estimated that there are more than 21,000 radon-induced lung cancer deaths in the US alone each year.
It is the second-leading cause of lung cancer in everyone and the leading cause in non-smokers.
Some scientific studies have shown that children are much more sensitive to radon exposure, especially at high levels. This is because they see higher respiratory rates and instances of dividing cells naturally as they grow.
Radon daughters — or particles — can enter the lungs where they cling to the inner linings and walls. Once there, they continue to undergo radioactive decay causing damage to nearby cells.
The most unfortunate thing about those 21,000 deaths, each year is that they are preventable. Knowing radon is a threat and having your residence tested for its presence can keep you healthy. If elevated levels are discovered, mitigation can ventilate the gas making the air in your home safe again.
Awareness is the issue here, as most people don't have a clue radon is even a problem and those that do refuse to believe it can cause serious health issues.
Radon Is Deadlier Than…
Comparing the annual death rate — of 21,000 per year — to that of other common accidents we can see just how deadly the gas really is.
Drunk driving kills 17,400 per year
Falls in the home kill 8,000 per year
Drowning is responsible for 3,900 deaths per year
Home Fires kill 2,800 per year
As you can see, even drunk driving — which is still a huge problem — pales in comparison to radon related deaths. That alone should be enough to get you concerned about the problem.
This information has been taken from our "Radon Is Deadlier Than…" infographic.
Radon Can Be a Problem Anywhere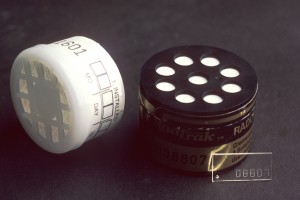 It's not a problem that's confined just to your home either. Radon can collect inside any building including your place of work, schools, hospitals, public centers and more. The air in your home may be perfectly safe but your children may be exposed to the deadly gas when they go to school, and you when you go to work.
It's a common misconception that Radon is only a problem up north, or in houses that have basements, but that's not true at all. Radon can be a problem anywhere since it's a naturally occurring gas. Even if your neighbor's home is safe you may still have a problem in your own and vice versa.
There are certain geographical areas that are more prone to elevated radon, but that doesn't mean it can't exist elsewhere. In the United States, instances of elevated radon gas have been reported in every state. Certain lands characteristics, such as Karst, require continuous testing because the underlying landforms dissolve over time and may change the levels of radon in your home.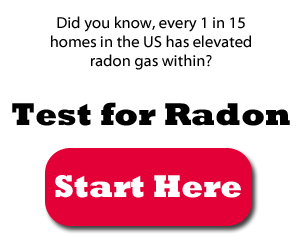 Since radon is odorless, colorless and tasteless, the only way to discover its presence is to test specifically for it.
Test Your Home for Radon Gas Today, and Then Help Spread Awareness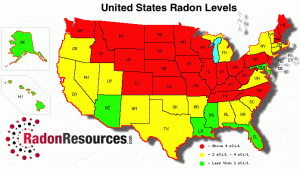 Every single homeowner or resident should have their home tested for radon gas. If you're a renter, encourage your landlord to test the residence. If you own your home, then pay a visit to your local hardware retailer and pick up a DIY radon testing kit — you can also find them online. If you don't want to bother with it, then contact a local radon professional and have them come check out your home — make sure they are certified though!
Once you've tested your home and know the radon gas levels — and have taken action if necessary — then it's time to share your experience with others. Don't just focus on keeping yourself and your family's health in the clear, inform your friends, extended family and even colleagues about the dangers of radon gas. The more people that know about this silent killer and its many associated dangers the better.
Our main goal here is to reduce that large 21,000 number of people dying from radon-induced lung cancer every year especially since it can be prevented. It's even worse when you consider the general costs with treating lung cancer, as opposed to the cost of a radon gas testing kit or mitigation system.
Radon Gas Causes Lung Cancer, So What?
Similar to how smokers share a sentiment that cancer will never happen to them, despite the fact that they're smoking a full pack of cigarettes — or more — per day, many people believe that they won't ever get lung cancer from exposure to radon gas. In reality, because exposure increases the risk there is a chance that you may never get it, that's absolutely right. However, there's also a chance that you may get it by spending just an hour in a home with elevated levels — and it doesn't even have to be your own home!
Lung cancer has one of the highest mortality rates of any form of cancer. This is because a majority of treatments are ineffective yes, but it's also because of the nature of the disease. As with most forms of cancer, if you catch it early by all rights you should be okay. The problem is, by the time patients begin to show symptoms, the disease has usually progressed well beyond a curable state. That means, by the time a doctor diagnoses someone more often than not it's too late. The best option then is to try and prevent it entirely by avoiding some of the more prominent causes. Being that radon gas is the second-leading cause of lung cancer for smokers and non-smokers the world over, you'll want to avoid being exposed to the deadly gas.
Radon Gas Can and Will Kill You, Don't Wait to Test
Test your home today. Don't wait. Encourage management to test your work for radon gas, encourage your friends and family to test their home, or encourage everyone you meet in public to test their home. Radon gas can and will kill you slowly, so if it's collecting in your home you need to get it out. The only way you can do that, is by testing your home and finding out whether or not it's a problem. The whole concept is real simple. Don't spend time in denial believing that it won't ever happen to you or your family. It may already be happening. You may be exposed to this silent killer every day and night you spend in your house.
Test as soon as possible, take action and then spread the word!